BR PROGRAM
DISINFECTION PRODUCTS
Our BIOPROTECTUs™ System is the clean, reliable, pesistent, environmentally friendly solution you need to help prevent the spread of dangerous microbes.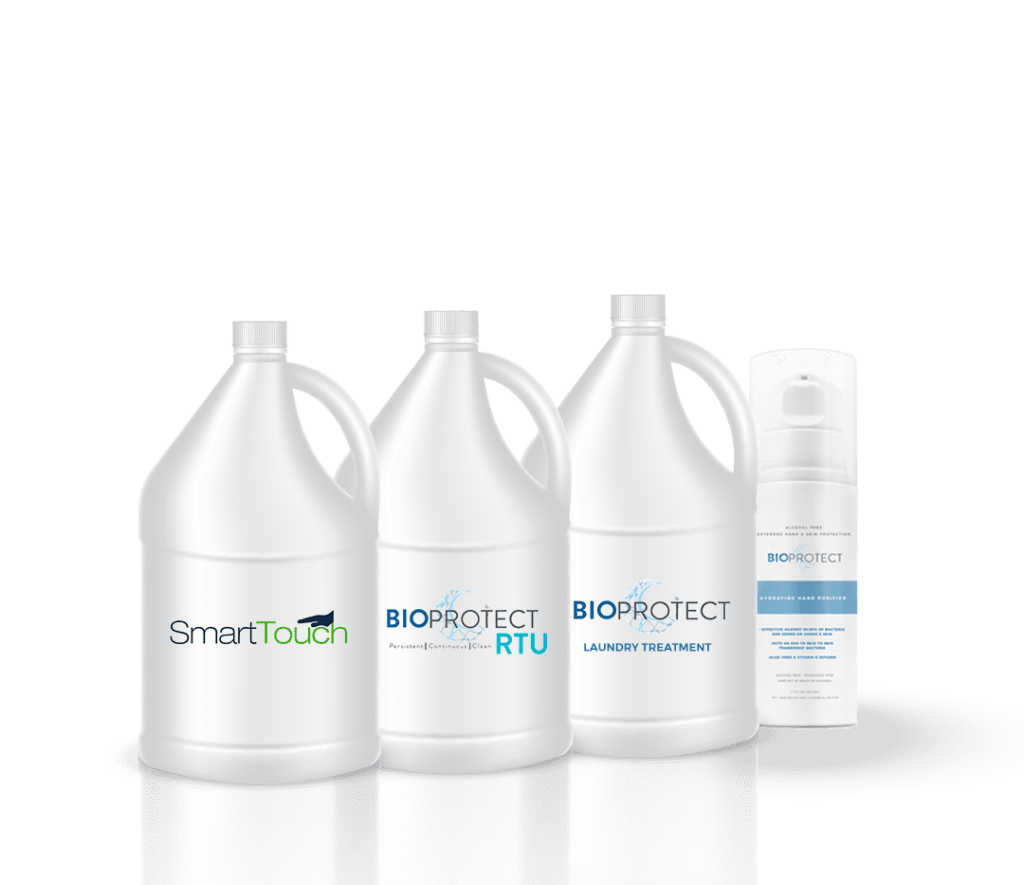 The Big Red System uses patented, EPA Registered technologies to modify surfaces, providing such surfaces with disinfection and durable long term protection that kills and inhibits the growth of problematic bacteria, fungi, algae, protozoans and other microorganisms that can inhabit many of life's surfaces.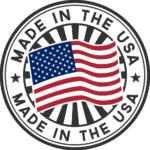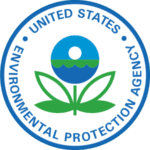 DISINFECT
---
Smart Touch Hospital Grade Disinfect
EPA registered, hospital grade disinfectant
NSF registered D2 sanitizer on food contact surfaces
Kills 99.999% of bacteria including E.Coli & Salmonella in less than 60 seconds
PROTECT
---
BioProtect Surface Protectant
Ready to use, water based antimicrobial surface protectant
Remains active on applied surfaces for up to 90 days
Uses ZERO Triclosan, heavy metals, arsenic, titanium, phenols or poisons to kill
PURIFY
---
BioProtect Purify Hand Sanitizer
Effective against 99.99% of bacteria on hands and skin
Paraban & sulfate free formula
FILTER
---
Use Submicron Filters
Innovative submicron filters boost efficiencies to HEPA levels
Works on all sized AHU systems with little or no retrofitting require
Removes down to 0.1 micron particles that can include viruses that contribute to colds and flu, allergies and asthma caused by mold
BIOPROTECTUs™ System Benefits
Large Spectrum Performance
Effective against a large array of molds, mildew, algae and fungus
Residual Long Term Efficacy
Persistently & continuously protects surfaces up to 90 days
Unmatched Versatility
Can be applied to a wide variety of porous and non-porous surfaces
INDUSTRIES WE SERVE
The Big Red antimicrobial programme provides long-term residual disinfection and is based on the use of quaternary organo-silane based disinfectants. These products are tried and tested and have received accreditation from various authorities around the world including the EPA. These surface coatings are entirely different to traditional chemical disinfectants in that they chemically bond to the surface being treated and endow that surface with antimicrobial properties. These properties are not short-lived like traditional disinfectants but instead, offer a powerful, efficient level of disinfection on a 24/7 basis for at least 90 days. Furthermore, the antimicrobial coating is effective against a broad spectrum of pathogenic microorganisms including yeast, fungi, protozoans, and bacteria that are commonly transferred to objects and surfaces in our everyday life. Because of this unique level of powerful, ongoing antimicrobial protection, the product has an extremely wide range of potential applications including (but not limited to) the following:
HEALTHCARE FACILITIES
---
From clinical reception areas to elevators and escalators, to patient beds and bathrooms, to operating theatres, continued improvements to a facilities cleaning programme can only benefit the health, welfare and overall experience of the patients and medical staff. A clean, safe and hygienic working environment for all clinical care staff whether in housekeeping, food service, nursing or surgery provides additional peace of mind and helps build a reputation as a safe, caring organisation.
HOTELS & HOSPITALITY
---
Protect your guests and staff from harmful bacteria and germs by getting your indoor environment protected with BioProtect. Why not add to your 'clean accomodation' with Big Red Program which can be safely applied to both porous and non-porous surfaces; rooms, reception areas, bathrooms, basements, carpeting, hardwood, furniture, decks and pools and interior HVAC system and food contact surfaces.
DENTAL CLINICS
---
Similar hygiene and infection control issues are confronted by dental clinics, from dental reception areas, waiting rooms, X-ray areas, dental laboratories to the patient treatment areas themselves. All such areas can gain protection and peace of mind from Big Red's unique long-term disinfection treatment.
RESTAURANTS & CAFES
---
Catering facilities can also benefit from Big Red's programme, from dining tables and chairs, buffet facilities, take-away tables, bar tops, bar stools, or the washroom and toilet facilities; continued improvements to a facilities cleaning programme can only benefit the health, welfare and overall experience of the customers.
RETAIL OUTLETS
---
Whether it is a huge shopping mall or a small 7Eleven store, large numbers of customers flow through retail outlets every day. From the point of entry, through the sales floors, service counters and pay stations, or once again the washroom and toilet facilities. These are all areas that can benefit from the high level of ongoing antimicrobial protection offered by the Big Red programme.
COLLEGES, SCHOOLS, & NURSERIES
---
Big Red fully understands how busy students, children and toddlers are within their respective educational facilities, busily touching multiple surfaces and objects as they learn. From the college, school or nursery entrance gates through to classrooms, play areas or washroom and toilet facilities, there is a clear and present danger of cross contamination. The Big Red antimicrobial programme can effectively mitigate this risk.
ATHLETIC & FITNESS
---
Keep your athletes healthy and safe from harmful germs by getting your locker rooms and sporting facility protected with BioProtect. Protect the spaces and equipment where athletes, clients and staff live to be healthier. The Big Red Program can safely treat both porous and non-porous workout surfaces such as gym equipment, locker rooms, carpets, showers, mats and even reception areas.
AUTO & MARINE VESSELS
---
Protect your passengers and crew members from harmful mold, mildew and more by getting your vehicles and vessels protected with BioProtect. The Big Red Program can be applied to more than the interior of vehicles and vessels; clean and protect surfaces such as decks, bilge pumps, seating, fabric, leather, fiberglass, HVAC systems, carpeting and even engine rooms.
COMMERCIAL LAUNDRY
---
Protect your employees and facility from harmful bacteria and germs by preventing the cross contamination from soiled linens by getting your commercial laundry facility and linens protected with BioProtect. Implement the Big Red Program to treat your laundry facility and equipment as well as using BioProtect's laundry textile treatment and softener to protect against odor causing bacteria, mold, mildew, staining and degradation of your linens.
INDUSTRIAL, MANUFACTURING & WAREHOUSING
---
Keep your employees, equipment, and products protected from harmful bacteria, mold, mildew and more by getting your facility protected by BioProtect. The Big Red Program can be used to treat your warehouse, production line equipment and workspace as well as employee locker rooms, break rooms, restrooms, and offices.
MASS TRANSIT FACILITIES, AIRPORTS, MRTs, FERRY TERMINALS & TAXIS
---
Transport facilities of all kinds have multitudes of passengers, government officials, security personnel, shop keepers, travel agents, maintenance contractors or taxi drivers pass through them. From the point of entry to terminal buildings, check-in desks, ticket counters, baggage handling, food and beverage outlets, or communal washroom and toilet facilities the health, welfare and overall experience of all the passengers, staff and officials needs to be ensured. Once again, Big Red's antimicrobial programme can offer this protection and peace of mind.
POLICE STATIONS, PRISONS & DEFENCE FACILITIES
---
Civil defence and secure facilities clearly need to be physically safe and secure in many different ways, and Big Red appreciates that they also need to be safe and secure from the risk of cross contamination and infection. From the point of entry to secure facilities and buildings, security check points, operational areas or communal washroom and toilet facilities, there is a compelling need to protect all on-site service personnel, inmates and civilians occupying such strategically critical facilities from infection and illness.