Putting You in Control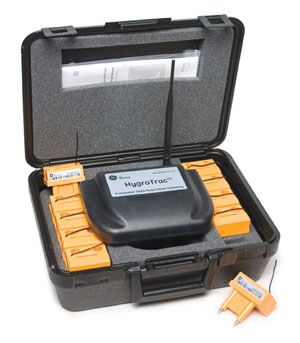 The HygroTrac system offers constant real-time remote job site monitoring from practically anywhere. Automatic wireless sensors collect temperature and humidity information from a job site and transmit the data safely and reliably to a secure Website.
HygroTrac Benefits
Is your job site drying? Know instantly.
The HygroTrac system can notify you within minutes if the site isn't drying as you expected, either by e-mail or by text messages sent to your cell phone.
Improve your techniques.
Use HygroTrac real-time feedback to adapt your drying techniques on the fly. Maximize your efficiency by using the right approach for each situation.
Dispatch resources efficiently.
Control personnel and transportation costs by dispatching techs and equipment exactly when and where they're needed.
Learn. Improve. Build your business.
HygroTrac puts the power in your hands to operate your business better, faster and more efficiently than ever before.
Assure your client.
Your client wants to know when the job will be done. HygroTrac data helps you to estimate drying times more accurately and to know – really know – when the drying is complete.
Simplify insurance claims.
Working with insurers? HygroTrac helps you provide the information insurers need to process the claim quickly. Xactimate now includes use of the HygroTrac as a line item in its cost estimation software.
Document work completed.
Every data point of your drying procedure is recorded on the HygroTrac secure server and permanently stored by job title number. Download the data for analysis and documentation and archive it for future reference – even develop case studies for staff training.
Product Features
Offering constant real-time data — connects securely with the Internet for remote monitoring
Long 150 to 500 foot router range — no multiple gateways and no wires required
Patented sensor capacity — up to 600 per gateway
Reporting intervals that can be adjusted from 1 minute to 24 hours
Automatic alarms via text message and email for early warning about moisture related problems
Data for exporting to produce standard reports and complete insurance forms
Configurable gateways and sensors and website that can be customized with your logo
Simple and cost-effective monitoring system with internal antenna
Wireless sensors reduce error while maintaing data integrity and reading accuracy
Three Internet connection options available.
Types of data collected:

Reading time and date
% RH
Temperature (°F/°C)
Wood Moisture Equivalent (% WME)
GPP and g/kg
Dewpoint temperature (°F/°C)
---
Download the HygroTrac Comprehensive Manual »
---