Evolution® LGR: Low Grain Refrigerant Dehumidifier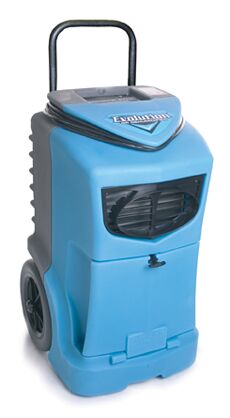 The Evolution packs state-of-the-art low grain refrigerant technology into a compact design. Built for today's trained restoration professional, the Evolution also encompasses the most user-friendly features. So versatile and easy to handle that you'll want to use it on every job!
LGR technology. Keeps pulling moisture below 40 grains per pound so that deep drying can occur.
Compact size. Lightweight, easy to maneuver, and highly versatile.
Improved hose wrap. Recessed, quick-release design keeps drain hose free of kinks.
Low amp draw – only 5 amps. Lower draw means higher efficiency and reduced problems with heat on the job.
Advanced filtration. HAF filters rated twice as efficient as washable foam.
Protected touchpad. Recessed digital control panel for protection. Easy-to-use controls in four languages.
Automatic pump purge. Automatic pump cycles every six minutes to eliminate overflow.
Product Features
LGR technology boosts effective operating range
Compact size – only 92 pounds
Draws only 5 amps – but removes up to 70 pints/day
Quick pump access for easy servicing
New, rigid fold-down handle
Improved quick-release hose wrap design
Built-in ring for easy attachment of ducting
---
Click Here to Download the Evolution Manual »
---